Straight teeth through modern braces
The orthodontist utilises the fixed braces in order to correct crooked teeth. These are mostly placed once all permanent teeth are there to perfectly align them.
Here you will find out more about the different types of fixed braces we offer for your child in our specialist practice for orthodontics in Unterföhring Munich.
The invisible brace on the inside – Lingual braces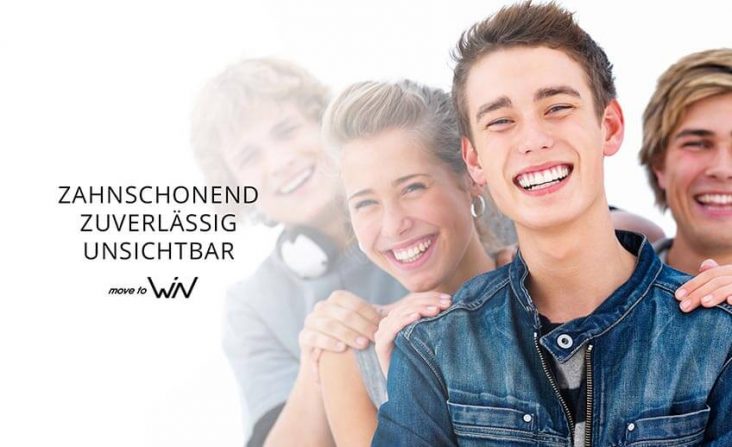 For many teenagers the idea of a visible brace brings along negative emotions. Lingual orthodontics differentiates itself by being completely invisible. It is attached to the inner surface of the teeth. A lingual brace provides unrestricted treatment of any malposition, with the same efficacy as the classic fixed brace. Apart from the positive aesthetics there are numerous factors, from a medical viewpoint that support the use of a lingual brace. For this reason we recommend the lingual brace to both adults and children.
+
Greatly reduced risk of cavities and decalcification on the lingual side: The act of brushing teeth is considerably more difficult with fixed brace. There are several scientific studies, that clearly point towards a reduced risk of cavities and decalcification using lingual braces in comparison with the classic fixed brace on the outside. This is due to the fact that the lingual side experiences constant salivary flushing and is further cleansed by the tongue. Lingual brackets are bigger, allowing a greater protective zone for the subjacent teeth.
+
Highest precision through custom fabrication: With the usage of lingual orthodontics, every patient's brace is custom manufactured to accommodate the differing teeth and jaw shapes. During the planning stage of the lingual technique, precise target positions are determined. This allows for individual anatomical parameters to be fully considered, resulting in exact, fast and predictable implementation.
Dr. von Rom completed his further education as an orthodontist at the Medizinische Hochschule Hannover on of the leading institution in lingual technique worldwide.
The classic fixed brace - Brackets
Speed-Brackets – small and clean:
Speed-Brackets distinguishes themselves through their delicate design. They are a lot smaller and therefor, less obvious than the classic fixed brace. Instead of using a rubber band, an integrated fixed metal flap is used to fix the orthodontic wire. This provides hygienic benefits.
Teeth-coloured ceramic brackets – white Style:
A fixed brace with ceramic brackets has the advantage that the brackets match the colour of the teeth. This adds to the discreetness and is less obvious. Similar to the Speed-Brackets our ceramic brackets have an integrated flap that omits the use of a rubber bands, easing the strain on the dental hygiene.
Standard brackets
The classic brackets are made from stainless metal. A rubber band is used to fix the orthodontic wire, which delivers the necessary force for the tooth movement.