Your specialist practice for modern orthodontics in Unterföhring – Dr. von Rom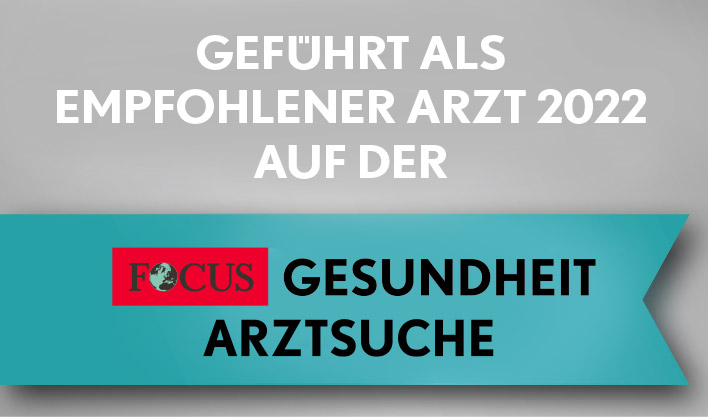 Welcome and thank you for visiting us! Please feel free to browse our website to find out who we are and how we work. Located in Unterföhring not far from the city centre of Munich, orthodontist Dr. von Rom specialises in the treatment of dysgnathia and malocclusion. In other words the correct relationship between teeth and jaws. Do not feel intimidated by braces, we are here to provide comfortable, modern and even invisible solutions for you and your children.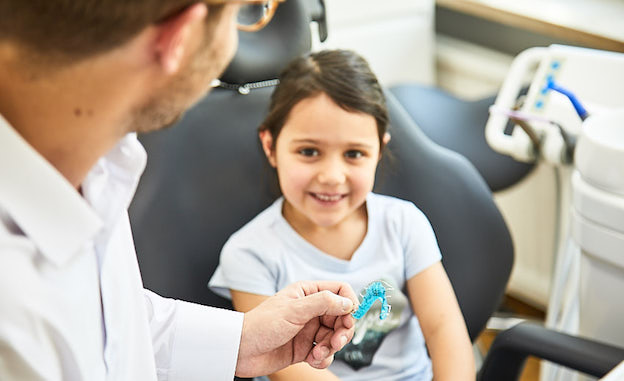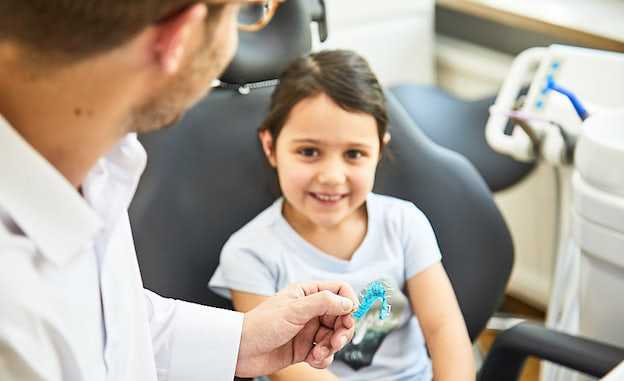 Braces for children and adolescents
Crooked teeth, misaligned teeth or misaligned mandible or maxilla can be a cause for lowered self-confidence, stunted development and adversely affect your health.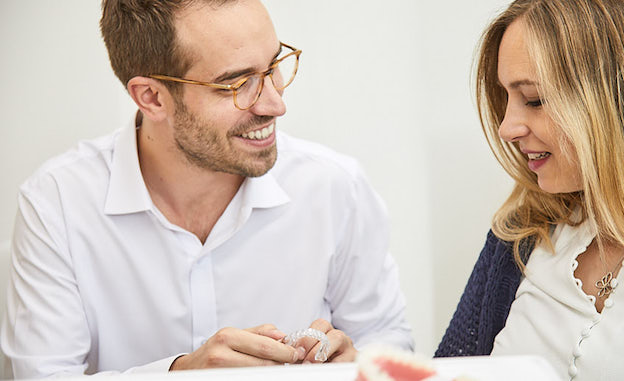 Dental braces for adults
It is never too late for orthodontic treatment. For treatment of adults there numerous discreet and inconspicuous braces available.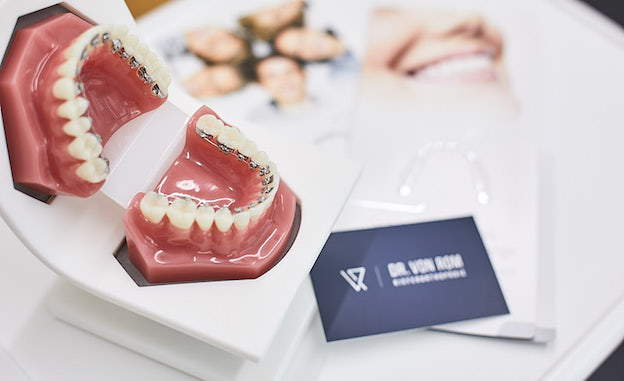 Lingual orthodontics – the invisible braces
Straight teeth? Yes! Visible braces? No thank you! The invisible braces in the interior satisfy any aesthetics concerns.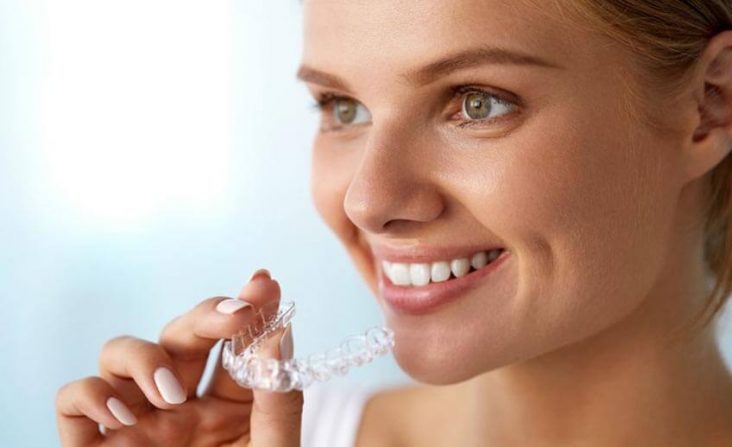 Invisalign – the almost invisible brace
You dream of straight teeth? The thought of conventional dental braces is putting you off? There is a solution.
Regardless if you are privately or publicly insured, your smile is our passion!
Your smile is our passion! We believe that oral perfection is a sign of good health and happiness. An attractive smile boosts your confidence. Orthodontics does not discriminate against age, regardless if child, adolescent or as an adult – we can provide a solution for every patient. To cater to your needs, share with us your preferences and priorities that will enable us to find the perfect path to your perfect smile. Did you know dental braces can be completely invisible?
Our modern dental practice encapsulates our modern orthodontic philosophy within the metropolitan area of Munich. The patient is the focal point, where your comfort is of our utmost importance. In our waiting area we have provided iPads and refreshments. Treatment and consultation will of course take place in private rooms.
Quality takes precedent in our practice. We strive to constantly grow in line with the best industry standards, expanding our expertise by continued training and techniques. Our orthodontic practice in München-Unterföhring prides itself in being up to par with what the latest dental science has to offer.
Here you will find our specialist practice for orthodontics in Unterföhring:
Directions
From Munich city centre: Being an orthodontic practice, our location is in close proximity to the city centre of München. From Stachus, Isartor or Marienplatz you can reach our practice easily with the S-Bahn on the S8 or by car.
From Johanneskirchen/Oberföhring/Bogenhausen:The Oberföhringer Straße becomes the Münchner Straße und goes from Oberföhring/Bogenhausen directly to Unterföhring.
From Ismaning to Unterföhring: Regardless if you arrive by public transport, by bike along the Isar or by car via the Münchener Strasse. We are centrally located, with minimal journey times.
From Schwabing/Freimann: our orthodontic practice is located on the opposite side of the Isar and the Englischer Garten, an approach on the Föhringer Ring ensures a short transit time from Schwabing/Freimann.
From Aschheim: Your fastest route to our orthodontic practice from Ascheim is via car.
We look forward to your visit – sincerely your Orthodontist Dr. von Rom in Munich-Unterföhring.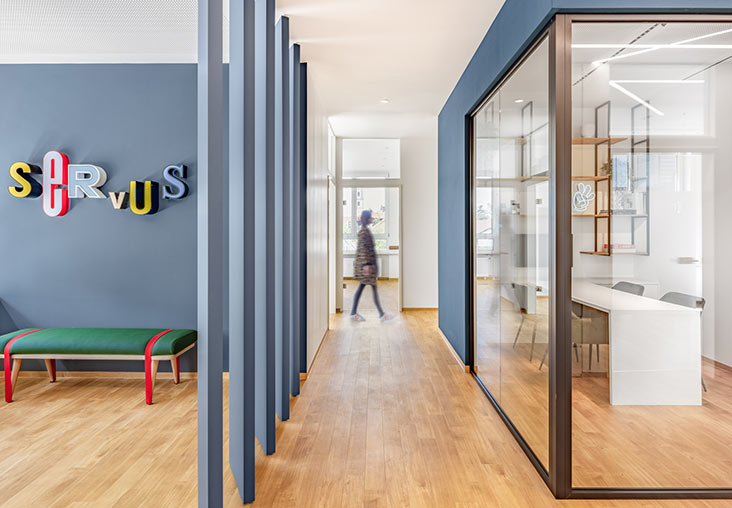 Our modern orthodontic practice in München-Unterföhring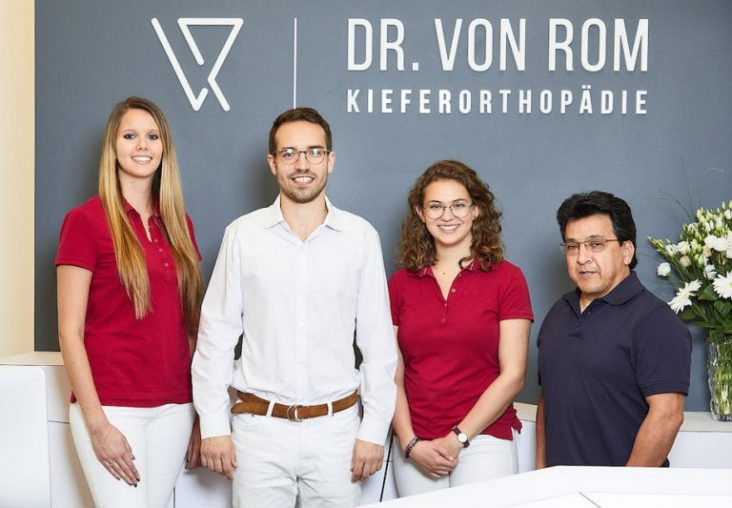 Dr. Fabian von Rom with Team
Frequently asked questions about orthodontics & orthodontists:
What is an orthodontist??
Orthodontist or Orthodontic Specialist, in German Fachzahnarzt für Kieferorthopädie)
General dentist with Master of Science degree (M.Sc.) in orthodontics
General dentist practicing orthodontics
What is an orthodontist or orthodontic spechalist (Fachzahnarzt für Kieferorthopädie)?
After studying dentistry in university and working for at least for one year as a general dentist it takes a minimum of three years of specialized further education to become an orthodontist. This must occur during full time residency. During this period the focal point is exclusively geared towards orthodontics. Specialising in this field can only be garnered at accredited practices and at specialised departments at university hospitals. At the end of the residency a mandatory exam must be taken. Only if the prerequisite residency and successful participations of the exams are passed, can an orthodontist/dentist assign the title "Fachzahnarzt für Kieferorthopädie" to his designation.
What is in comparison a Master of Science (M.Sc.) in orthodontics?
Every general dentist can pursue in parallel to their day to day dental treatment responsibilities a master's degree in orthodontics. In contrast to the specialist path described in the above, the master's degree is obtained on a part-time basis. To provide context, an Austrian College offers this degree over the course of 6 terms conveyed over 45 days. In contrast becoming an orthodontist takes three years.
What is then a general dentist practicing orthodontics?
By law any general dentist is allowed to offer orthodontic treatments. No particular training is required nor is there a mandatory exam to be taken.
When should I first take my child to the orthodontist?
Timely diagnosis and approach tailored to individual requirements: Crooked teeth and jaws should be identified as early as possible but may not necessarily have to be treated early on.
Timing, Timing, Timing:To avoid any unwanted complications, we recommend the initial examination to take place at age 6. Developmental growth plays a critical role in determining the timing of treatment. Lower and upper jaws exhibit differing growth rates, where the upper jaw is known to conclude its final augmentation at approximately 9 years of age. A misalignment may therefore be treated with great efficacy and little complication at a primary school age. Also in some cases of severe misalignment it is sensible to seek treatment at an early age. In many other cases, however, beginning the treatment is more beneficial between the ages of 10-12.
Apart from congenital factors, habits can cause detrimental misalignments of the jaw. Examples of such habits are sucking of the thumb, overuse of pacifiers or incorrect swallowing mechanism to name a few. An orthodontist recognises these habits and will play a supportive role in corrective behaviour. This further illustrates the benefits of identifying issues at an early age.
As an orthodontic specialist in München-Unterföhring we are primed to identify issues from the first encounter and determine whether there is an urgent requirement for treatment or not.
Here you can learn more about the early treatment of children …
Orthodontics for adults – is there an age limit?
Independent of age, teeth have the ability to be orthodontically moved. Important at this stage are caries-free teeth and infection-free gums. There is nothing to stop orthodontic treatment should these factors be fulfilled. At our orthodontic practice we specialise in treatment with invisible braces. We can offer solutions that will not impede on your everyday life in Munich. Here you will find specific information regarding orthodontics for adults in München-Unterföhring. It would be our pleasure to provide personal consultation to provide the individually ideal procedure.
Does public healthcare contribute towards orthodontic treatment?
This is very much dependent on the severity of the teeth or jaw misalignment, as well as the age of the patient. The state defines the limits at which the public health insurance will contribute towards orthodontic intervention. We will be in a position from the initial consultation to advise whether you can expect contribution towards treatment costs.
For patients above 18 years, public health insurance will only contribute in cases of severe jaw misalignment (dysgnathia) that require a combination of orthodontics and treatment by mouth, jaw and facial surgeons.
During treatment a general contribution of 20% from the patient is expected. This amount will be reimbursed by your health insure after successful completion of orthodontic treatment.
What happens during the initial appointments?
Appointment: A personal meet and greet without any obligations. We are simply happy to be there for you!
The first appointment is principally there in order to get to know each other better. During the discussion we strive to ascertain your individual needs and expectations. This is the foundation of our practice and critical for your personal orthodontic treatment.
It is our aim to mutually discuss the present situation of your smile and provide our expert opinion of whether treatment makes sense or is possible. This encounter will be reimbursed by all health insurers, be it private or public. At no point during this time will you be obligated to pay or stay.
Furthermore there is no need for a referral from your general dentist. We look forward to meeting you!
Appointment: Preparation of diagnostic documentation
The next step towards your dream smile is to produce a detailed plan of your orthodontic treatment. A basic starting point is to compile this data set that comprises of pictures, to-scale models, x-rays etc. These will be obtained during the second appointment.
Digital photos: We will take professional photos of your smile, teeth and face. This allows the orthodontist to form an expert judgement on your facial type, facial symmetry and the outline of your smile line. The photos will also serve as progress point throughout the treatment.
Models: We will make detailed impressions of your jaw, enabling the orthodontist to identify teeth placement and their relationship with the upper- and lower jaw, giving insight into the space available for correction.
Digital (reduced strength) X-ray: With the aid of the most modern, digital and weakened x-ray two sets will be taken:
The orthopantomogram (OPG) serves amongst other things to analyse the root of the teeth and the jaw bones or possible agenesis of teeth are identifiable.
The lateral picture (FRS) will allow us to determine cranial structure, growth patterns and the relationship between the lower and upper jaw.
After all this information has been collated, it will be evaluated in detail. The analysis will support a custom orthodontic solution for you or your child. Finally this will then lead to discussing the best way forward to execute the plan.
Appointment: Discussion of your personal plan
Your orthodontic findings: During this third appointment we will identify and discuss in detail the orthodontic findings. We will refrain from using technical terms, as we deem it critical to provide a comprehensive understanding.
Your orthodontic treatment: We will illustrate how the misalignments can be rectified. More often than not there will be several alternatives to take into consideration. Subject to your lifestyle and wishes, choosing type of braces is for you to decide.
Duration of treatment und treatment costs: Through our vast experience we will be sharing an accurate duration of treatment together with an accurate estimation of treatment costs.
Should I maintain regular visits to my general dentist throughout the treatment?
Whilst the orthodontist specialises in teeth and jaw alignment, your general dentist specialises in your overall dental health. An orthodontist and dentist complement each other, not replace each other.